EVENTS LAST A DAY, MEMORIES LAST FOREVER.
Weddings. Corporate Events. Parties. Lighting. Holiday Events. Proms. Anniversaries. Nightclubs. Reunions. Fundraisers.
I've been a DJ since 2001, DJ'n weddings, Proms, Corporate & Holiday events, Graduations, & Birthdays. I've had the pleasure of working with Jaime Johnson Events, Ifon Chen, NW Stolen Images, Myk Crawford Photography, Bill Bozley, Londons' Ultimate Catering, Grace Media Films, Crain Studios, Looyenga Photography, Ana Hopkins Photography, Soiree Events Design, Impact Light Systems, & Angel Audio.
​
YOUR SPECIAL DAY
​
​
​
​
Remember, as a little girl, sneaking into your mom's closet, wearing her jewelry, shoes and pretending to walk down the aisle? You've dreamt about this day, down to every detail- color of your gown, venue, practicing your first dance, even the smell of your bouquet; your special day. A day you marry your best friend, & celebrate your love.
​
It is now time to choose your DJ. I know how important this special day is to you. In choosing me, you'll be getting a packed dance floor, and great value, and attention to detail. With a clean and classy Dj set up, to match the décor of the day. Let's create this magical journey together, with the right music, and lighting décor to set that special forever moment.
Black Rock 2023 Boots and Bubbles 4-COLLAGE
The Golf Club at Black Rock Boots + Bubbles-ANIMATION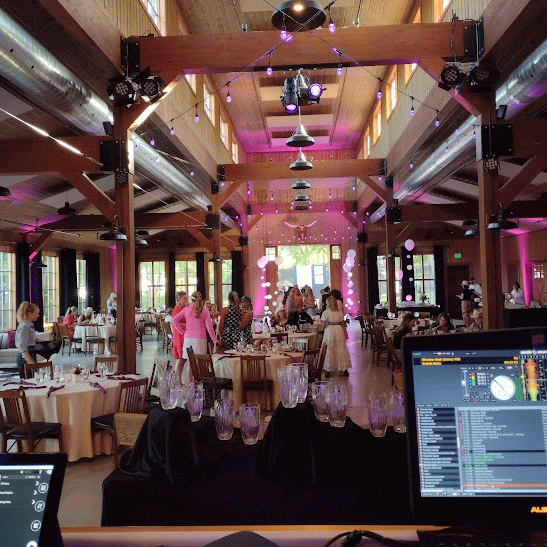 2023 Ashley Yalacki + Taylor Acaardi-ANIMATION
2023 The Boulevard Race-ANIMATION
The Golf Club at Black Rock Boots + Bubbles-ANIMATION
MUSIC
Your event will always be remembered through the happy memories you create. My goal is to provide you with the highest level of service, tailor catered music to make it YOUR DAY.
RESIDENT DJ

- Community Cancer Fund

The Showcase - 2015, 2016, 2017, 2018, 2019, 2021, 2022.

Holiday Bash - 2015, 2016, 2017, 2018, 2019.

- Expeditors International

Christmas Holiday Party - 2015, 2016, 2017, 2018, 2019.

Gozzer Ranch Golf & Lake Club

​Social events - 2016 - present.

River Park Square

​Santa arrival - 2021 - present.

Spokane Tribe Casino

​Social events - 2021 - present.
RESIDENT DJ

- Studio E Nightclub, Northern Quest Resort & Casino

- Impulse Nightclub, Northern Quest Resort & Casino

(June) 2016 - (March) 2017​.

- Nyne Bar & Bistro

(June) 2013 - (Sep) 2013.

(April) 2015 - (Dec) 2015.

(April) 2017 - (Present).

- Crave

(April) 2017 - (Present).​
LIGHTING
Lighting is the most creative way to transform a venue. With the right lighting, your wedding gown, suits, flowers, cakes, food, photos, reception space and guests will look beautiful. Let's begin this journey with any ideas that you may be inspired by. Beautiful gobo patterns can also be projected on walls, ceilings, or dance floors. Patterns give the venue an amazing ambiance. Dazzle and transform your venue with vibrant and eye popping colors to create an aesthetically pleasing event. Intelligent lights will create a enchanting atmosphere for your introductions, romantic dances, cocktail & dinner music, and a spotlight for your first dance.
Intelligent Color Light Display Custom Monograms & Lettering Up-lighting Dance Floor Lighting
2023 Boots & Bubbles DJ Setup 2
2023 Boots & Bubbles DJ Setup 1
Uplighting @ Spokane Club Ballroom
2023 Boots & Bubbles DJ Setup 2
Marie Evans, May 9, 2017 - Mullan High, Idaho.
Sarah Hamilton, May 22, 2016 - Liberty Lake, Idaho
DJ Patrick was contracted to play for our Junior Prom. We found him to be easy to work with - accommodating, personable and flexible on all accounts. Student responses when asked how they felt about DJ Patrick, included "Good mix of music", "Great transitions", "Nice person", "Best DJ we have had".
DJ Patrick was absolutely outstanding! He did a fantastic job at my sons graduation party. All of my friends wanted his card so they can hire him for more events. My husband and I will definitely have him beck!
Shelby Smith, July 4, 2016 - Clarkston, Idaho.
DJ Patrick was the DJ for our wedding. He did a fantastic job with his music selection. He was energetic and upbeat the whole night. I would definitely recommend him for anyone looking for a budget friendly and upbeat DJ!